1xSingclean® COVID-19 test set (colloidal gold method) from the mouth
Code:
6690
Related products
Product detailed description
Singclean COVID-19 Antigen Test kit (Saliva Swab) is a solid phase immunochromatographic assay for the rapid, qualitative detection of antigen to 2019 Novel Coronavirus in human saliva. This test provides only a preliminary test result. Therefore, any reactive specimen with the COVID-19 Antigen Test kit (Colloidal Gold) must be confirmed with alternative testing method (s) and clinical findings.
Quick: Results ready in 15 minutes, help with the global shortage of swabs and PPE
Accurate: With a high level of accuracy that's comparable to nasopharyngeal swab testing
Non-invasive: More comfortable than COVID-19 nasopharyngeal swab
Safe: Will not require health care workers to be put at risk. Sampling can be done by patients
Affordable: No need for instrument
INSTRUCTIONS FOR USE
When swabbing the throat, fully insert the sterile sampling brush provided in the kit into the posterior pharyngeal wall, tonsils and other inflamed areas. Ensure that the brush does not touch the tongue, cheeks and teeth.
Place the antigen extraction tube on the work table. Hold the vial containing the antigen extraction buffer vertically, squeeze the vial so that the buffer drips freely into the extraction tube without touching the edge of the tube, and add 6 drops (about 200 µl) to the extraction tube.
Place the swab sample in the extraction tube containing the pre-added antigen extraction buffer and swirl the swab stick approximately 10 times. Press the head of the swab against the tube wall to release the antigen in the swab, and then let it stand for about one minute.
Install the drip tip on the extraction tube, close it tightly, and let it stand for about 1 minute.
Open the aluminium foil pouch, remove the test cartridge, add 3 drops (approximately 100 µl) to the sample port on the test cartridge (or add 100 µl using a pipette), and start the timer.
Wait for the coloured line (T) to appear. The result should be read in 15 minutes. Do not interpret the result after 20 minutes.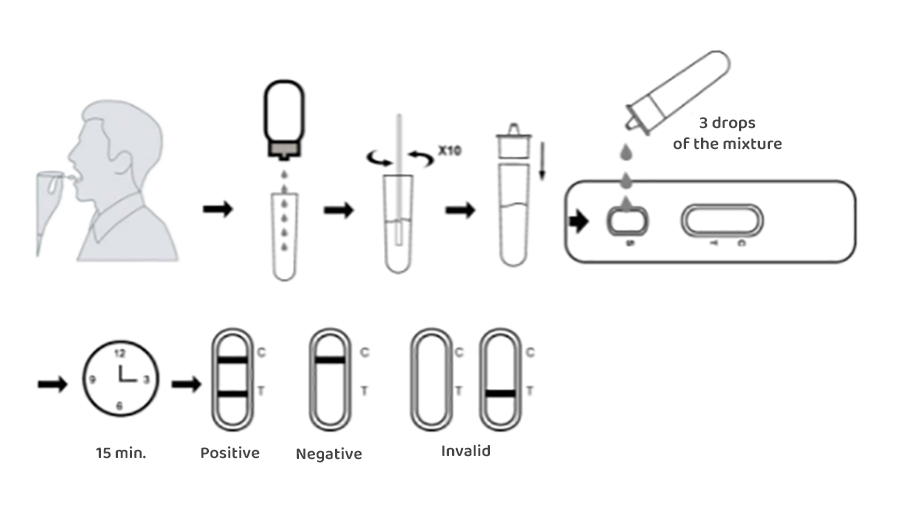 INTERPRETATION OF RESULTS
NEGATIVE: If only lane C is present, the absence of any burgundy color in the T band indicates that COVID-19 antigen (SARS-CoV-2) is not detected in the sample. The result is negative.
COVID-19 POSITIVE: In addition to the presence of lane C, if lane T is displayed, the test indicates the presence of COVID-19 (SARS-CoV-2) antigen in the sample. The result is a positive COVID-19.
INVALID: The control bar does not appear. Insufficient sample volume or incorrect test procedures are most likely. Check the procedure and repeat the test with a new test cartridge. If the problem persists, stop using the test kit immediately and contact your local distributor.