1x Quick test for COVID-19- Edinburgh Genetics ActivXpress - (swab from the front of the nose)
|OnlineRousky.cz
Code:
3786
Related products
Product detailed description
Exact
Reliable tests Edinburgh Genetics ActiveXpress + CPVID -19 Antigen Complete Testing Kit produces excellent results in sensitivity and accuracy that exceed WHO standards, without cross - reactivity with seasonal coronaviruses. This test is for professional use only.
Summary


Edinburgh Genetics ActivXpress+ COVID-19 Antigen Complete Testing Kit is a double antibody-sandwich, qualitative membrane-based immunoassay In-vitro diagnosticmedical device. The kit is designed to detect nucleocapsid antigen from the SARS-CoV-2 in nasopharyngeal swab or oropharyngeal swab from patients who are suspectedof being COVID-19 positive. The SARS-CoV-2 antigens present in the specimen react with anti- SARS-CoV-2 antibody-coated particles in the test cassette. The mixture thenmigrates upward on the membrane by capillary action and reacts with the pre-coated antibody in the test line region. If the specimen contains SARS-CoV-2 antigens, acoloured line will appear in the test line region. If the specimen does not contain SARS-CoV-2 antigens, no coloured line will appear in the test line region, indicating a negative result. To serve as a procedural control, a coloured line will always appear in the control line region, indicating that the proper volume of specimen has beenadded and membrane wicking has occurred.






Storage instruction
• Store the kit at room temperature or refrigerated (2-30?).
• Do not freeze.
• The kit has a shelf-life of 12 months.
Instruction for use
Allow the test, specimen and/or reagent to reach room temperature (18-30?) prior to testing.
1. Remove the test cassette from the foil pouch and use within one hour.
2. Place the cassette on a clean and level surface.
3. Use dropper to transfer 3 drops (approximately 100µL) of the specimen with reagent to the specimen well (S)
of the test cassette, then start the timer.
4. Wait for the coloured line(s) to appear. Read the results after 15 minutes. Do not interpret the results after 20
minutes.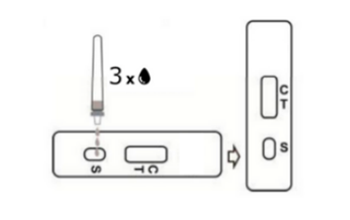 Results
Negative Result: One coloured line appears in the control line region (C). No line appears inthe test region (T)
Positive Result: Two coloured lines appear. One coloured line appears in the control lineregion (C) and another line adjacent appears in the test region (T).
Invalid Result: Control line fails to appear. Insufficient specimen volume or incorrectprocedural techniques are the most likely reasons. Review the procedure and repeat the test with a new test. If the problem persists, discontinue using the test kit immediately and contact your local distributor.
Sample transport and storage
Freshly collected specimens should be prepared as soon as possible and no later than one hour after specimen collection.Specimen already prepared may be stored at 2-8? for no more than 24 hours. If long-term storage is required, store at -70 ? and avoid repeated freeze-thaw cycles.